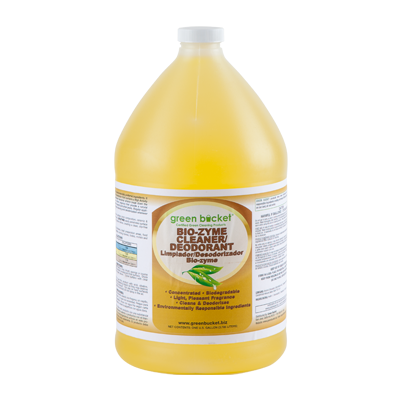 Bio-Zyme Cleaner/Deodorant
SKU BZC
Product Details
Bio-Zyme Cleaner/Deodorizer is a no-rinse, non-toxic, pleasantly scented daily cleaner and deodorizer formulated with environmentally responsible ingredients with highly active bacteria/enzymes. These special bacterial strains break down the urine, grease, grime, uric salts and other organics that provide a natural breeding ground for unwanted insects and other pests. Regular application ensures deep cleaning and deodorization whenever a source of soil and odor is present. It's suitable for use on any porous surface including vinyl composition, terrazzo, carpet, lawn, concrete, drains etc.

Recommended for use in kitchens, restrooms, hospitals, nursing homes, hotels, kennels, veterinary clinic and animal shelter and schools. Let our Bio-Zyme Cleaner go to work for you.

Light Duty Cleaning: 1:64 dilution (2 oz. BIO 101 per gallon of water)
Medium Duty Cleaning: 1:32 dilution (4 oz. BIO 101 per gallon of water)
Heavy Duty Cleaning: 1:16 dilution (8 oz. BIO 101 per gallon of water)
Feature: 32 oz. spray bottle label available for this product. Refill-Reuse-Reduce!


| Ingredient | CAS | Function |
| --- | --- | --- |
| Water | 7732-18-5 | Diluent |
| Surfactant Group | 68439-46-3 | Surfactant |
| Aqueous Enzyme Mixture | Not Available | Enzyme |
| Spearmint Terpenes | 8008-79-5 | Fragrance Component |
| L-Carvone | 6485-40-1 | Fragrance Component |
| Hexyl Cinnamal | 101-86-0 | Fragrance Component |
| benzyl acetate | 140-11-4 | Fragrance Component |
| 2-phenylethanol | 60-12-8 | Fragrance Component |
| Methyl Salicylate | 119-36-8 | Fragrance Component |
| linalool | 78-70-6 | Fragrance Component |
| Cornmint Oil | 68917-18-0 | Fragrance Component |
| Terpinyl Acetate | 8007-35-0 | Fragrance Component |
| Cyclaprop | 17511-60-3 | Fragrance Component |
| amyl salicylate | 2050-08-0 | Fragrance Component |
| linalyl acetate | 115-95-7 | Fragrance Component |
| 2,4-dimethylcyclohex-3-ene-1- carbaldehyde | 68039-49-6 | Fragrance Component |
| isoborneol acetate | 125-12-2 | Fragrance Component |
| alpha-terpineol | 98-55-5 | Fragrance Component |
| 4'-tert-butyl-2',6'-dimethyl-3',5'- dinitroacetophenone | 81-14-1 | Fragrance Component |
| copper, powder | 7440-50-8 | Pigment Component |
Save this product for later