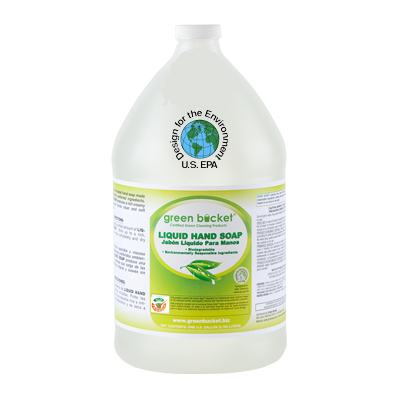 Liquid Hand Soap
SKU LHS
Product Details
Liquid Hand Soap's mildly scented formula is suitable for general purpose use. Dye free, it produces a rich, clean-rinsing lather that leaves skin feeling soft and supple. Its medium bodied consistency enables use in most soap dispensing systems.


A gentle, viscous, lotionized hand soap made from environmentally preferred ingredients. Liquid Hand Soap has a light green apple scent that produces a rich creamy lather which leaves hands clean and soft without irritation.

This product meets or exceeds the standard for industrial and institutional cleaners based on its reduced human and environmental toxicity and reduced volatile organic compound content.


| Ingredient | CAS | Function |
| --- | --- | --- |
| Water | 7732-18-5 | Diluent |
| Sodium C10-16 Pareth-2 Sulfate | 68585-34-2 | Surfactant |
| Sodium Chloride | 7647-14-5 | Thickener, Component |
| Cocamidopropyl Betaine | 61789-40-0 | Surfactant |
| Lauryl Glucoside | 110615-47-9 | Surfactant |
| Citric acid | 77-92-9 | pH Adjuster |
| 2-phenoxyethylisobutyrate | 103-60-6 | Fragrance Component |
| dimethylbenzylcarbinyl acetate | 151-05-3 | Fragrance Component |
| Ethylene Brassylate | 105-95-3 | Fragrance Component |
| hexyl acetate | 142-92-7 | Fragrance Component |
| Aphermate | 25225-08-5 | Fragrance Component |
| Iso Cyclo Citral | 1335-66-6 | Fragrance Component |
| ethylisobutyrate | 97-62-1 | Fragrance Component |
| Ethyl Heptoate | 106-30-9 | Fragrance Component |
| magnesium nitrate | 10377-60-3 | Preservative |
| Methylchloroisothiazolinone | 26172-55-4 | Preservative |
| 2-methyl-2H-isothiazol-3-one | 2682-20-4 | Preservative |
Save this product for later